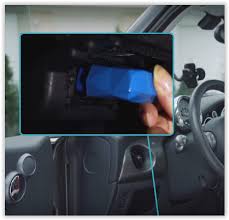 Connected housing for better driving. Intended for the general public it is able to interpret and render in an intelligible form the characteristics of the motor of a car.
It allows access to the mechanical data generated by the engine of his vehicle to consult them directly on his smartphone.
Like the trackers and other bracelets connected to follow its sporting performance, this product is in line with the trend of the quantified-self (or self-measurement) by applying it to the automobile.
Objectives: to incite in a fun way a more economical driving and to give motor diagnostic elements in case of breakdown before going to a garage.
Technical specifications:
Vehicle connection via OBD diagnostic socket
GPS + GSM localization technologies, integrated antennas
Communication with Smartphone Bluetooth Low Energy 4.1
CAN & LIN Bus
Battery
Some links: