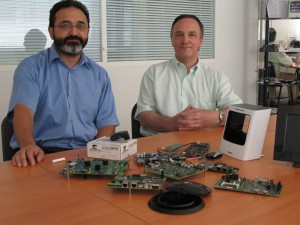 At the end of 2007, P. CHICHIGNOUD & M. BENKEMOUN decided  to create GOOBIE in Vélizy (P.C. 78 Yvelines), specialized in the design of electronic innovative solutions & products.
Behind this birth stands the conviction that it is preferable for every client to have one sole interlocutor who is capable of getting involved and who accompanies him from design until mass production.
From the beginning, both founders favour technical excellence. Very fast, they encircle themselves with a multidisciplinary team of project managers and of engineers of strong competence (hardware, software, mechanical, project management). At the same time, they weave a network of research, technological & industrial partners, on whom they lean to supplement their offer.
In a sector which is subject to an extremely hard competition, notably Asiatic, GOOBIE could fast distance themselves  and develop their notability.
This success is based on a Total Offer,  founded on following principles:
Put technological innovation in the foreground
Offer to the clients an offer combining design, industrialization and mass production
Assure an unique interface with the clients throughout project, allowing them so to concentrate on the core business
Minimize risk between design (prototypes) and mass production  by controlling the critical stage of industrialization
Speed up the time to market, a considerable trump in a highly competitive international context
Control costs from the beginning of the project  by a "Design to Cost" approach
Being reactive and aiming at excellence
In few years, GOOBIE could innovate in leading-edge technologies then customize the fruit of their  R&D in concrete industrial applications for their clients, working with actors admitted of the following sectors:
In the course of projects, GOOBIE reinforced its expertise to accomplish various projects, thanks to clients' palette (Start-ups, SME / SMI, Big Groups) enticed by a very whole based philosophy on the workmanship of innovation.